! -- $Header: ~rtroy/web/1955_brochure.html ,v 1.0 1995/03/03 18:08:03 rmt Exp $ -->
© Copyright 1995, 1996 KGCNA. Last update, October 22, 1996.
1955 Karmann Ghia Sales Brochure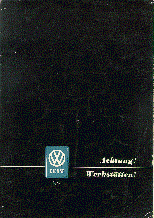 This document was thoughtfully provided by Lars and Kirsten Neuffer, who run a Karmann Ghia business in Germany.
This is very likely the first sales literature ever produced for the Karmann Ghia. Notice that the name "Karmann Ghia" - in any form - is not used, and in fact, no name at all is given!
The careful reader will notice that some of these images are used in the earliest owners manuals. Also note that the date on the back cover says very clearly, "August 1955."