! -- $Header: ~rtroy/web/rt.html,v 1.0 1995/03/16 14:48:00 rmt Exp $ -->
The Place
We have access to an industrial space which they let us use for Karmann Ghia - related activities. This is also the location for the monthly Karmann Ghia meetings, barbecues, etc.
Street Address: 613 85th Avenue, Oakland CA 94621, USA
If you want to send something to the club, DO NOT send it to this address - we only borrow the space for meetings.

If you want to call:
Phone: 510-717-6942

The Entrance can be hard to find & getting my attention can be problematic
Directions and map
About the Location
The location is what some people call a 'loft'; it's zoned 'light industrial'. If you come to visit, don't expect to find a house at all. The structure is a warehouse, in a complex of some 7 older such spaces, the oldest dating back to W.W.I. Unfortunately the place looks a bit scruffy thanks mostly to debris left behind from someone who moved out. (The landlord seems incapable of removing it. -sigh-)

We've never had any trouble here, but of course, this is the big city - don't leave obvious valuables sitting in your car in plain sight, but you don't have to be overly concerned about your personal safety.
---
The Entrance
The entrance can be difficult to find. 7 Addresses share a single 30' wide gate just next door to a much more obvious "Wire and Rope" business. Just inside the gate, on the left, there is a "parking triangle", and in the far corner, a door. That door serves 613 and two of our neighbors. The large gate is on a garage door opener remote system, and sometimes it's closed. Adventuresome folk can perhaps squeeze through, but a better plan is to call us at the number above. Around the block on Hegenberger there are a host of convenience stores and gas stations from which to find a phone and call.

Please use the doorbell! It's the middle one. If the outer door is open, 613 is at the end of the hall on the right, but we may not hear your knocking - use the bell! Also note that sometimes we're in the back and can't hear either since the property goes back a total of 168'. We will soon be setting up a second bell way in the back but until then, your choices are:
We love drop-in visitors, but it's best to call me so you're expected
Ring the bell
Knock on the inner door (doesn't usually work well)
Sometimes nobody hears the phone, bell or knocks! Sorry 'bout that! That's why it's good to call first.
---
Parking
Please do not park in a numbered space! Please do not block anyone in! We have a continual problem with this and I don't want my friends to be guilty so we are free to complain when someone's in our spot or blocking us in! Note that all the parking in the triangle is numbered, so please don't park there.

Parking after business hours and on weekends is available in the Nutri-Slim parking spaces as they are closed. Also, there usually is a lot of parking around back inside our fenced in gate - get us to let you in, or if you're familiar, just let yourself into the gate and hoof it around to the front door. And you can always park on the street.
---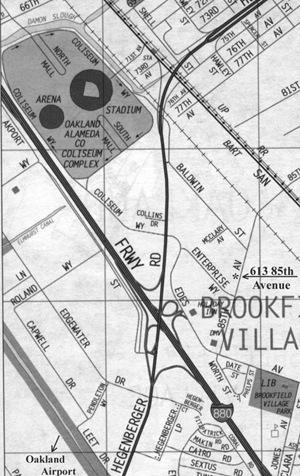 Directions & Map
Most visitors will have no problem getting to the area because it's near the Oakland Coliseum and Oakland Airport.
From BART:
You can take BART if you wish - I sometimes do. It's perhaps a 10 to 15 minute walk from the Coliseum BART Station. I highly recommend taking the Hegenberger Road overpass over the railroad tracks, then left on Baldwin, and right on 85th. This route is well lit with lots of traffic, and it's the shortest route, especially if there's a train passing.
From I-880 Northbound:
The Hegenberger Road exit is before the overpass. It's a "J" shape which "T" intersects Edes. Turn right. 85th Av. is your first left, and is just past the DMV office. The street address is just 1.5 blocks ahead on your left. If you get to railroad tracks, you've gone too far. See notes above regarding the entrance and parking.
From I-880 Southbound:
The Hegenberger Road exit is before the overpass. Turn left onto Hegenberger and cross over I-880. Take the first right onto Edes, and first left onto Enterprise. Enterprise is one long block, and at the other end, turn left onto 85th. 613 is half a block on your left. Some of my friends use alternative routes, which can be deduced from the map. See notes above regarding the entrance and parking .
---
---