! -- $Header: ~rtroy/web/kgcna.html,v 1.0 1995/03/16 17:17:03 rmt Exp $ -->
© Copyright 2000 - 2019, KGCNA. Wilhelm Karmann GmbH holds trandmarks used on this page.
The Karmann Ghia's 50th Anniversary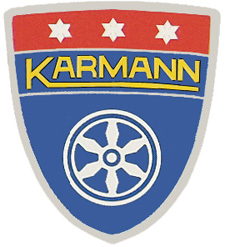 On August 14, 2005, our beloved Volkswagen Karmann Ghia will be 50 years old. We are organizing to celebrate the fun and joy the Karmann Ghia has brought us.
Please note:
This page was borrowed from the former - and similar page - we used during Karmann's 100th birthday back in 1998.
Not everything has been re-written to reflect the 50th Anniversary yet, but, we're working on it!
Please forgive any broken links, etc.
---
The Vision
To celebrate the Volkswagen Karmann Ghia's 100th birthday, to share in the fun and express some of the joy that Karmann Ghias have brought us over the years; to help Karmann bring focus to and showcase their innovative ideas for the future of their industrial customers; to do this with all of the other like-minded people, passionate about the Karmann Ghia, inclusive of all; and to let the Karmann family know how much we appreciate them and what they have done for us, even if their German heritage doesn't help them easily understand our reaction. How we achieve this vision is of lesser importance - that we achieve this vision is vital.
---
Contents
Job listings - volunteer opportunities
Contacting Karmann's 100th Anniversary Committee:

Telephone, FAX, Post and email addresses
Regular Meetings

Organization: Anniversary Committee

Sub-Committees
---
Come join us!
We need your help, your ideas, your ethusiasm and energy to make this the best celebration it can be. All Karmann-related Clubs and individual enthusiasts are invited to join us. The first step is to contact us. You can find the various leaders that are already established listed below. Please tell us what you'd like to do, if you already have an idea, or you can take a look at the job listings page.

We have contacted over 195 Karmann-Related clubs to solicit their support, so you're in good company. Welcome to the group and thank you for your participation.
---
Organization and the Anniversary Committee
The entire enterprise is organized as committees, each with specific areas of responsibility. The primary governing body is made up of representatives from the various clubs that have an interest. This body, for lack of a more descriptive name, is the Anniversary Committee. The Anniversary Committee shall provide organizational leadership, establish the specifics of our plans, establish sub-committees to handle specific duties, monitor progress, and is ultimately responsible for the success of the enterprise. Sub-Committee chairs, and their seconds (co-chairs), report to the AC for direction and support.
The AC shall cause the creation of sub-committees based upon need. Each such committee shall have a chair-person and a co-chair, capable of taking over for the chair at a moments notice, and any further such persons as are deemed helpful or necessary.
Sub-Committees
Publicity
Arrangements
Regalia
Volunteers
Fund Raising
Communications
Treasury
---
Sub-Committees
Publicity
This committee is responsible for advertising, in all its myriad forms.
Arrangements
This committee is responsible for coordination of efforts to be sure everything happens how and when it is supposed to happen and so forth. Examples include managing rentals, and vendors.
Regalia
T-shirts, hats, etc This committee is responsible for finding and negotiating with vendors, checking quality and ensuring that deliveries are made in a timely fashion. This group will likely be asked to secure awards for events.
Volunteers
While everyone is responsible for helping secure volunteers, this group is charged with making sure nothing falls through the cracks. They help write "job descriptions" and help find people to fill them. And, importantly, this group keeps track of who is doing what job, and shall keep records. We ask each club to assign a member to be on this committee.
Fund Raising
This activity includes finding and securing sponsors.
Communications
This activity primarily includes a webmaster, an e-mail list administrator, and phone list keeper. "Internet Relay Chat" forum might work in lieu of teleconferences if we can get it to work.
Treasury
This group manages whatever funds the group has available. This committee shall consist of three persons. In order to keep funds secure, we shall require two signatures - any pair of the members of this committee, or one such member and the Executive Committee chair. This group is also responsible for all book-keeping.
---
Communications
We shall utilize this set of web-pages, an email list, and occasional teleconferences in order to remain in contact. We shall establish regular teleconferences at an interval of not less than once a month, fluctuating over time based upon need.

Our web pages shall contain a "job listing" of open volunteer positions, updated plans, contact information and so on. It will be a primary resource. Similarly crucial, email will be a key communications mechanism.
---
Elements of the celebration
There are some things that we will need to do, no matter what, just because of the nature of what we're up to. Other things can be thought of as optional - we can do them if we get the man-power and resources, and skip them if we so choose. Below, I haven't separated these two classifications out very clearly, but the following list is to be thought of primarily as a pick-list - we shall pick from this list (and any further items that come to mind) those things we will do as we match up resources with specific activities. We may also wish to have multiple instances of some types of event, to accommodate everyone. I will be presenting at Karlsruhe a more complete list than follows below - if you have further ideas, please forward them on! (Do note, though, that I've intentionally left out some of the more minor sub-events that often happen at car shows.)
Presentation to Karmann - As it is Karmann's 100th birthday, we shall give the Karmann family a present.
Awards - these may be associated with various events.
Static automotive displays
Show and Shine - separated by makes? models? If we get significant diversity of participation, we may end up being glad we didn't try to do a judged show! We also must beware of scale. We may need to do several different Shows in order to accommodate all.
Dinner/Banquet - Just for the leadership? I am looking to the town-hall to find out if we can get their support.
Driving Tours

sight-seeing
rally
parade
photo-shoots
Caravans across country - to and possibly from the events. (Caravan = convoy for our British friends!)
Toy and Literature show - clean parts only, indoors. These are lots of fun!
Swap meet - dirty parts, out doors. We will likely wish to keep "dirty" swap meets on the edge of town, not the center.
Bar-B-Que/Pig-Roast (outdoor eating events) - pure social events.
Club Night - Club-hosted parties held at various hotels around town.
Manufacturers Midway - This type of event might include static displays by Karmann, perhaps Karmann's customers, or our sponsors and would be similar to a mini-trade show.
Racing - some Karmann clubs, such as for Scirocco, exist to race - perhaps a venue can be found.
---
Resources
Seed money - We anticipate sponsorships, regalia, and event sales (such as Toy & Literature Show entrance fees) to finance the celebration. If we do a good job, we can reasonably expect a modest profit as well. However, we must get started somehow. The Anniversary Committee shall establish rules to accept loans, to be repaid from proceeds, from any interested parties, and to decide what is to become of any such proceeds. Perhaps, as an incentive, profits should be distributed in proportion to those who provide seed money, up to a set percentage limit, with any surplus to be donated to a local charity. (KGCNA was founded with a similar strategy six years ago, and has paid off its loans of over $4500, so this is workable.) A modest sponsorship from each club is a reasonable request, and may be sufficient.
Locations - I have scouted the grounds of the City of Osnabrück and there are wonderful and perfect facilities which are a dream for such a celebration. I have been in contact with the city of Osnabrück, and they are in support of helping to celebrate their largest employer. However, they are very bureaucratic and intimated that a request for use of their facilities will be successful if we can join with Karmann itself and have their support. Therefore, we are asking Karmann for that support.
Manpower - We, the enthusiasts, are responsible for providing all necessary manpower resources. Thankfully, we are many, and we may be pleasantly surprised by the desire for involvement by some groups. There's a lot of opportunity here for various groups to pick up a task and run with it. For example, a particular club could accept the task of running the Toy & Literature Show. Another can handle a Show & Shine. I feel this is the most crucial aspect to our success.
---
Logistic Concerns
I have complied a list of specific logistic concerns. A number of these issues are related to specific events, while others are overall concerns. The following is a synopsis of these concerns. I expect I have overlooked a few, and ask you to please bring these to our attention.
Dates - We need to establish dates as quickly as possible so that announcements can be made, correctly, and in-time for appropriate notice to be given.
Accommodations - We need to confirm what the scale of ready access to hotel accommodations are in Osnabrück, and at what costs. If an "Event Hotel" can be established with reduced rates, so much the better.
Parking & Traffic Control - Clearly, we need to plan for the burden our events will bring to the sites we use.
Trash - We must commit to be doubly sure we do not place a rubbish burden upon our host facilities. Perhaps we can work with the City to ensure simple, effective accommodation of our trash removal needs. But we are responsible for providing for our guest celebrants.
---
Calendar
The following is an example calendar, just to give a feel for things. This is ONLY an example! There's a possibility of scheduling other events on the preceding, or following, weekend.
Friday, August 17th - Convoys and Caravans of Karmanns begin departing for Osnabrück from places like Helsinki, Trondheim, Rome
Wednesday the 22nd - Caravans from the UK meet up with those in France while the Swiss and Italians join together in their drive to Osnabrück. Static Automotive Displays are setup.

Thursday the 23rd - informal gatherings around Osnabrück. Volunteers welcome early guests, act as guides, etc.
Friday the 24th

Noon - 100th Anniversary Committee Hospitality Suite (party) where early comers and prepaid registrants pick up their maps of the town and itineraries, goody bags, begin sales of T-shirts, regalia.

Evening - Club Hospitality Suite Night - the various organizations host parties in various hotels...

Saturday the 25th - Morning - Swap meet

Noon - Toy and Literature show

Evening - Enthusiasts are free to clean their cars, and socialize with each other in an unstructured evening
Sunday the 26th - Morning - Show and Shine in the center of town

Day filled with activities

Evening - Banquet, presentations to car show winners and to Karmann.
---
How this all happened, by Richard Troy
Of course it all started with a passion for Karmann products. But the idea for organizing a celebration came in 1998, when Porsche reached its 50th year. The Porsche celebration was fantastic. A year later, in 1999, I shipped my Karmann Ghia to Europe and drove it some 8000 miles in eight weeks, I had remembered the Porsche event and began inquiry among my fellow Karmann-philes. Along the way, I asked people if they would like to participate, and so Karmann's 100th Anniversary Committee began being informally formed.

During that trip in '99, I met with representatives of Karmann to begin discussions of the celebration. During the spring of '00, I visited again, and it appeared at that time that the stage was set; Hundreds of Karmann Ghia enthusiasts were planning to attend a huge rally - car-show - in Karlsruhe, Germany, from July 21 to 23rd, 2000. It only seemed natural that since there'd be a congregation of leaders in one place, it should be used to really move the effort forward. So, I made arrangements to attend myself, and letters were sent out to over 195 Karmann-related clubs inviting their participation. Many groups have indicated their support, and we will be using the Karlsruhe event to further our planning.

Meanwhile, I've contacted Karmann once more, and have continued to make arrangements, contacting the city of Osnabrueck, and so forth. And that brings us to today, in early July... I hope to see you in Karlsruhe!
---
Contacting us
Anniversary Committee
Publicity

Arrangements

Regalia

Volunteers

Fund Raising

Communications

Treasury

Member 1
Member 2
Member 3
---
Anniversary Committee email list
E-list sign-up:


The Anniversary Committee has an email list with an automated sign-up procedure. To sign up, send an email, in "plain text only", to:


karmanns100th-request@lists.tdl.com


The body of the mail must only contain one line, requesting to subscribe you. It is of the form:


subscribe karmanns100th [user@isp.com]


For example, if you were Bill Gates, you'd send:


subscribe karmanns100th billgates@microsoft.com

Posting:


The posting address is simply: karmanns100th@lists.tdl.com

E-list Trouble:


If you have any troubles, please contact the list administrator, Ryan Holmboe, at: Diddler@BayArea.net
---
Richard Troy
Chairman, Karmann's 100th Anniversary Committee
Founder and current President, Karmann Ghia Club of North America
Chief Scientist, Science Tools Corporation
4200 Park Boulevard #151
Oakland CA 94602

Richard@KarmannGhia.org
http://KarmannGhia/Richard/
(001) 510-717-6942 (Pacific Standard Time = Grenwich - 8 hours)
FAX: (011) 510-567-9975

Richard has been an active Karmann enthusiast, and collector for about two decades. (His collection also includes a few non-Karmann automobiles.) Richard is presently Chief Scientist of Science Tools Corporation, which he founded in 1997 to commercialize the research he performed at the University of California, Berkeley. He is Co-Investigator of the OceanESIP Earth science project, managed by the Jet Propulsion Laboratory in Pasadena, California.

Richard performs as many tasks as he can in his restoration and maintenance efforts, so it's hard to find something he hasn't done to his cars himself. He is meticulous and slow, but his approach to perfection shows. As a case in point, Richard has spent 8 years restoring 1958 Karmann Ghia Coupe' 1991940, and completed it in the spring of '95. The vehicle was nice enough to be honored to represent Karmann at the Behring Auto Museum in Blackhawk, California in an exhibit on Carrozzeria Ghia, featuring the famed "Chrysler d'elegance" - which was designed and built by Carrozzeria Ghia at the same time as the Karmann Ghia prototype - the two machines are strikingly similar.

His other automotive interests include the Porsche 356, and the Rometsch, and he is very active in Vintage Racing engines. In particular, Richard loves to play with Okrasa, Denzel, and early Porsche high performance engines. Amazingly, he is presently making reproduction parts for all three types! ("Ya gotta do, what ya gotta do when it comes to making these things work!")
---
Larry Edson
Co-Chair, Karmann's 100th Anniversary Committee

662 Hawthorne Av.
Campbell, CA, 95008-2117
ledson@chw.edu
408-379-4158 (Pacific Standard Time = Grenwich - 8 hours)
FAX: 408-379-2745

Larry is one of the real work-horses of the organization, but never seems to be too busy to call up. Larry owns a gaggle of Karmann Ghias, including both type 1s and type 3s. He's brave about saving them, and is a real hero when it comes to the lengths to which he will go...

Larry is also a family man and has two daughters. Larry is a Computer Software Consultant, and has other outside interests. Mostly, he's into music and is a part of a local choir, but he also loves to deliver balloons and party favours for Valentines Day!
---
Ryan Holmboe
E-list Administrator
Diddler@BayArea.net

---
---